Shopping Cart
Your Cart is Empty
There was an error with PayPal
Click here to try again
Thank you for your business!
You should be receiving an order confirmation from Paypal shortly.
Exit Shopping Cart
Scott W. Stern, LCSW
Psychotherapist, Empowerment Professional
EMPOWERING PSYCHOTHERAPY & CORPORATE COUNSELING​​​

FOCUSED ON ADDICTIONS, ANXIETY, OCD, TRAUMA AND PTSD
"The end of hitting rock bottom"--An antiquated term in contemporary addiction treatment.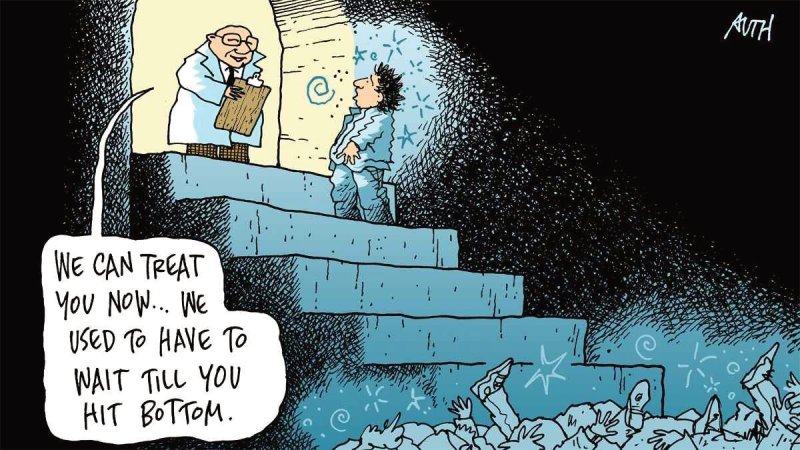 https://www.bostonglobe.com/ideas/2015/12/06/the-end-hitting-rock-bottom/nE4SAicvgaZ9KuIMypd3PL/story.html
Commentary by Scott W. Stern, Psychotherapist/Empowerment Professional
Smart Recovery, Charlie Sheen and CRAFT
"The end of hitting rock bottom"--An antiquated concept in contemporary addiction treatment. See commentary above the Boston Globe's article.
COMMENTARY: 
I remember when actor Charlie Sheen was everywhere in the press in 2011 and I was asked by a reporter, "do you think Charlie has hit his bottom, yet?" I responded that there is no way to tell, and no reason to assume that a "bottom" is the point when a substance abuser turns his life around and becomes abstinent. The "bottom" is an antiquated notion going back to the 1930's from Alcoholics Anonymous and carried over into many other 12 step meeting approaches (including Al-anon).
Sheen hated 12 step programs and had no desire to be abstinent. Recently, Sheen announced he is HIV positive to interviewer Matt Lauer. If asked again "has Charlie hit 'bottom,' who could know without a crystal ball? The only "bottom" I know of is death, because that is final without hope that addicted individuals can become empowered to overcome their condition. Similarly, it is the only point where families and friends can offer no supports to help facilitate change.
A colleague on FB responded to an article I wrote on Sheen, and referred to him as "non-compliant" and "not very receptive to treatment." But Sheen is not the exception--he is part of the 95% majority of substance abusers who do not respond well to abstinence and 12 step programs.
CRAFT offers a compassionate, harm reduction approach that can interrupt the cycle of destruction for the addicted, the chronic relapsers from abstinence programs, and the havoc families go through. The terms "tough love" and "keep the focus on yourself" often used in abstinence-based 12 step programs (i.e. Al-anon and A.A.)are obviously not terribly effective as Twelve Step Facilitation (TSF) and mutual support groups hold such poor outcomes (95% failure to remain abstinent of one year or longer while attending 12 step programs).
Instead, CRAFT offers an attractive recovery course with options and empowerment to all concerned. No treatment is infallible, but some are less fallible than others. CRAFT Intervention is designed to help a concerned significant other/family member (CSO) facilitate treatment entry/engagement for a treatment-refusing individual who is abusing drugs or alcohol (the family member).
Like Sheen, there are many addicted individuals who vie for control rather than relinquishing it. This is where the concept of empowerment trumps surrender to powerlessness as a more attractive course of treatment and saves lives.

CRAFT (Community Reinforcement and Family Training) is an excellent alternative highly regarded by SAMSHA, with a 64% success rate of positive outcomes (*positive outcomes have climbed since I collected this data in 2013) in which the addiction cycle is broken.
One can think of addiction more like a cyclone moving in an unpredictable, often destructive cyclical manner, rather than as a linear progression that will necessary lead to a "bottom" such as death. (Another antiquated concept going back to Jellinek's chart of the progression of addiction as a chronic disease.)
CRAFT is a more attractive method that provides harm reduction for individuals, families and the general public against the control and potential danger addictions hold.
I find that CRAFT is one of many paths down the road toward gaining control, rather than relinquishing it. In so many instances like the ones presented in the posted article, perhaps the remedy substance abusers and their families are truly in need of is empowerment.
https://www.bostonglobe.com/ideas/2015/12/06/the-end-hitting-rock bottom/nE4SAicvgaZ9KuIMypd3PL/story.html
/