Shopping Cart
Your Cart is Empty
There was an error with PayPal
Click here to try again
Thank you for your business!
You should be receiving an order confirmation from Paypal shortly.
Exit Shopping Cart
Scott W. Stern, LCSW
Psychotherapist, Empowerment Professional
EMPOWERING PSYCHOTHERAPY & CORPORATE COUNSELING​​​

FOCUSED ON ADDICTIONS, ANXIETY, OCD, TRAUMA AND PTSD
Veterans and Suicide
By Rick Maze
Staff writer, Army Times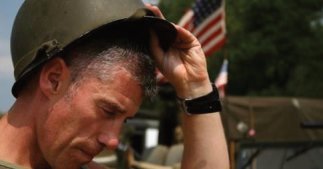 Troubling new data show there are an average of 950 suicide attempts each month by veterans who are receiving some type of treatment from the Veterans Affairs Department.Seven percent of the attempts are successful, and 11 percent of those who don't succeed on the first attempt try again within nine months.The numbers, which come at a time when VA is strengthening its suicide prevention programs, show about 18 veteran suicides a day, about five by veterans who are receiving VA care.
Access to care appears to be a key factor, officials said, noting that once a veteran is inside the VA care program, screening programs are in place to identify those with problems, and special efforts are made to track those considered at high risk, such as monitoring whether they are keeping appointments.
A key part of the new data shows the suicide rate is lower for veterans aged 18 to 29 who are using VA health care services than those who are not. That leads VA officials to believe that about 250 lives have been saved each year as a result of VA treatment.VA's suicide hotline has been receiving about 10,000 calls a month from current and former service members. 
The number is 1-800-273-8255.  
Dr. Janet Kemp, VA's national suicide prevention coordinator, credits the hotline with rescuing 7,000 veterans who were in the act of suicide — in addition to referrals, counseling and other help.Suicide attempts by Iraq and Afghanistan veterans remains a key area of concern. In fiscal 2009, which ended Sept. 30, there were 1,621 suicide attempts by men and 247 by women who served in Iraq or Afghanistan, with 94 men and four women dying.
In general, VA officials said, women attempt suicide more often, but men are more likely to succeed in the attempt, mainly because women use less lethal and less violent means while men are more likely to use firearms.
[The rate is lower, however, among veterans aged 19-29 who are receiving services when compared to those who are not currently receiving care through the VA.
The suicide rate is also impacted by high levels of Post-traumatic Stress Disorder (PTSD) in young veterans who served in one of these regions. One study at the San Francisco VA hospital found that veterans were less likely to complete PTSD treatment if they were male, under the age of 25, living in a rural area or received a PTSD diagnosis from a primary care clinic rather than a mental health program.]
Suicide attempts among veterans appear to follow those trends, officials said.
While the VA is implementing programs to address these challenges, there are also many supports available for veterans. Perhaps the most important number for veterans in distress is the suicide hotline with counseling specifically for military service members and veterans. Counselors experienced in the specific stressors that military members face are available 24 hours a day, seven days a week at (800) 273-8255.
http://www.armytimes.com/article/20100422/NEWS/4220330/18-veterans-commit-suicide-each-day
/