Shopping Cart
Your Cart is Empty
There was an error with PayPal
Click here to try again
Thank you for your business!
You should be receiving an order confirmation from Paypal shortly.
Exit Shopping Cart
Scott W. Stern, LCSW
Psychotherapist, Empowerment Professional
EMPOWERING PSYCHOTHERAPY & CORPORATE COUNSELING​​​

FOCUSED ON ADDICTIONS, ANXIETY, OCD, TRAUMA AND PTSD
Veterans Face Dangerous Combination of Painkillers and PTSD
Co-Occurring Disorders Part 1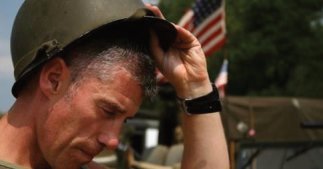 Veterans with PTSD are nearly twice as likely to be prescribed opioids as those without mental health problems, according to a study by a Veterans Affairs researcher.  Many soldiers returning from war carry memories of unspeakable acts such as torture, rape and sexual assault, suicide bombers, and other horrific crimes against humanity.  How do survivors continue to function?  
Veterans have existed throughout history--warriors, gladiators, knights, rebels.  To survive, many avoid feelings; others dissociate.  Dissociation is a common response to trauma. Dissociative disordered clients often self-medicate with drugs and alcohol.  Veteran's returning from their Tour of Duty have often sustained severe physical injuries as well as emotional often require pain killers (opioids) to avoid physical pain.  Similarly, many turn to alcohol to address psychological injuries.  Nightmares, Panic Attacks, Sleep apnea, paranoia, and adjustment disorders. 
According to the National Alliance on Mental Illness (NAMI), approximately 50 percent of individuals with severe mental health disorders are affected by substance abuse. NAMI also estimates that 29 percent of all people diagnosed as mentally ill abuse alcohol or other drugs.
Re-entry is very hard for soldiers. "The Hurt Locker" depicts one character who survives the physical and psychological torture, completes his tour of duty but cannot readjust to home life. Innocence has metamorphosed into a true warrior. To the dismay of his family, he re-enlists for another tour of duty and returns to Iraq. 
Similarly, many problem drinkers have co-occurring Post Traumatic Stress by other life changing events such as divorce, the death of a loved one, sexual and physical abuse are some of the issues. 
Thus, in this discussion I use the word "veteran" to include civilians fighting their own personal wars. Like many individuals with PTSD, veterans often use alcohol and other substances to distance themselves from painful feelings and memories.  They is no statute of limitations regarding PTSD and substance use disorders.  It is not uncommon for people who have been sexually abused as young children, to dissociate from the event and not recall the sexual abuse for 30 years.  
Statistics of Co-occurring Disorders and Military Service Members
Co-Occurring Disorders in Veterans and Military Service Members
In the United States, there are an estimated 23.4 million veterans and 2.2 million military service members including National Guard and Reserve. Approximately one in five veterans of the wars in Iraq and Afghanistan has major depression or PTSD. While the rate of co-occurring substance use disorders among veterans of Iraq and Afghanistan has not been established, approximately three of every four Vietnam combat veterans with lifetime PTSD had co-occurring substance use disorders.

Veterans with PTSD or depression experienced more serious legal problems, higher lifetime use of alcohol and other substances, more psychiatric symptoms, a wide variety of trauma experiences, and worse general health. A study found that veterans who received services for both mental and substance use disorders were at elevated risk of arrest. But only half of veterans with a mental disorder have accessed behavioral health services, and even fewer received adequate care.

Combat Stress

A 2007 Department of Defense task force report noted that military service can result in "hidden wounds" such as combat stress and PTSD. Symptoms of these injuries can include behaviors such as:

Difficulty controlling anger
Irritability
Self-medicating with alcohol and other drugs
Reckless and high risk behaviors
PTSD among veterans increases after return from deployment. A major risk factor for chronic PTSD is high combat exposure. Long and multiple deployments also increase the risk for combat stress and PTSD.
Prevalence of behavioral health conditions
Veterans of Iraq and Afghanistan have been part of a new initiative to assess the health of all service members returning from deployment. The Post Deployment Health Assessment (PDHA) is administered upon return and again at three to six months. The PDHA has found that mental health problems are highest among Iraq veterans compared with other areas of deployment, with 19 percent of Marine Corps and Army service members screening positive for at least one mental health problem. This was higher among members of the National Guard and Reserves compared with active duty service members, and higher among women than men.
Clients with these co-occurring disorders are advised to see a qualified professional to treat both disorders with patience and expertise.  It is NOT recommended for any veterans to discuss their co-occurring disorders in peer groups (or self-help groups) in a public forum. 
/